Overview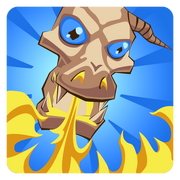 "Here there be dragons."
What better way to bring down fire and brimstone than with a little bit of Dragon Breath. Use this spell to destroy pesky enemy minions, other Keeper's unsightly rooms, or...well anything you just want to burn.
1 Experience point is gained each time the spell is used in combat.
| Level | Experience | Total Experience | Damage | Max Single Target Damage |
| --- | --- | --- | --- | --- |
| 1 | 0 | 0 | 100/s | 500 |
| 2 | 50 | 50 | 140/s | 700 |
| 3 | 250 | 300 | 180/s | 900 |
| 4 | 500 | 800 | 220/s | 1,100 |
| 5 | 1,000 | 1,800 | 280/s | 1,300 |
| 6 | ? | ? | ? | ? |
| 7 | ? | ? | ? | ? |
| 8 | ? | ? | ? | ? |
| 9 | ? | ? | ? | ? |